I'm rolling all of the paper based steps into one since the focus of this instructable is more on the leather aspect. In fact, none of this step is necessary to make a leather journal. It's just the way I did it. You could use an existing notebook or even a book.
Be warned, this first step is a doozy.
This was my test page that I folded and creased and marked on until it was generally useless for anything other than being a template. I cut about three pages at a time, since if you do more than that the cuts get really ragged. Once you've cut everything to the right size, separate the pages into piles. I did eight piles of six sheets.
Fold each pile in half. 1 page at a time. Yes this takes forever. Here's the end result: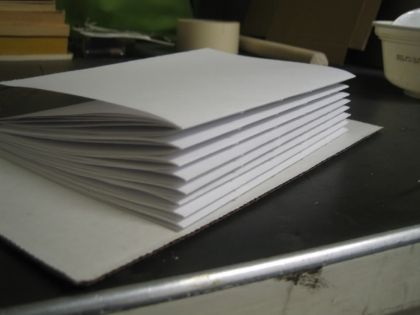 Each folded group of pages is called a signature. I don't know why. Once you've folded them you need to poke holes in the creases so you can sew them together. I used a leather awl. Poke four holes, spaced evenly apart, along the creases. Make sure it stays in the crease and doesn't stray onto the page itself.
Sew the pages together using a complicated method that's really hard to explain.
...No really, here's one of the sites I used to figure out how to do it. That site actually explains the way to do the whole binding process in a much more detailed way than I could ever explain it so rather than explaining it myself I'm just going to point you in that direction.
I used a strong waxed thread that I got from my local Tandy Leather store, but you can use any strong thread. If you want to wax it just run it over the bottom of one of those fat candles! This is what mine looked like when I was done with it.
After you've bound the pages they need to be reinforced. You can glue cheese cloth to the back which I haven't done, but would recommend. Then you need to put some sort of cardstock on the outside pages. I used some stuff we happened to have around. I think it's water color paper, but it was stiff enough.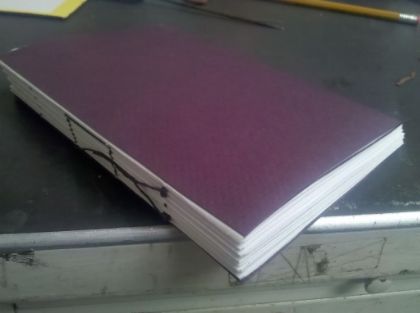 Measure it the same size that you used for the pages (in my case 7x9) and fold it the same way as well. Put a thin layer of glue on one side and fold it over one of the outside pages. After you've glued one side you can glue the other side and then move onto the opposite page of the book. Apply pressure as it dries.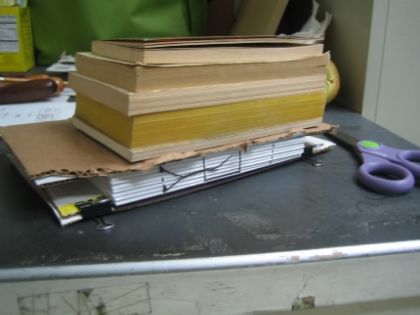 Now you have a journal to put in your leather cover. Yay!