Introduction: How to Bake Butterfinger Bars
How to make the best Butterfinger Bars for all occasions.
By: Kathryn Franc, Shelby Montgomery, Arthur Luoto, and Daniel Spradlin
The following recipe will make about 32 Butterfinger Bars.
List of Ingredients
Layer 1:
2 square unsweetened chocolate
⅓ cup butter
1 cup sugar
2 eggs
¾ cup flour
½ tsp baking powder
½ tsp salt
Layer 2:
¼ cup butter
2 Tablespoons cream
1 tsp vanilla
2 cups powdered confectioners sugar
Layer 3:
1 square unsweetened chocolate
1 tablespoon butter
Materials Needed:
sifter
8 inch square pan
spatula
two bowls
two frying pans (May also use the Microwave for these steps).
Warning
Contains Butter, Eggs, Wheat, and Chocolate
Step 1: Layer 1
Total Time: 1 hr 15 min, (Prep. Time 15 min, Bake 30 min, Cool 30 min.)
1. Heat oven to 350 degrees F.
2. Grease 8 inch pan
Alternatively, line an 8 inch pan with aluminum foil
3. Add 2 squares of unsweetened chocolate and ⅓ cup of butter to a frying pan
4. Melt over hot water.
Alternatively, add 2 squares of unsweetened chocolate and ⅓ cup of butter to a microwave-safe bowl.
Place bowl in the microwave.
Set Microwave on medium power for 1 to 1½ minutes.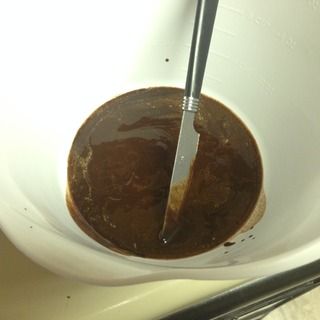 5. Beat in 1 cup of sugar and 2 eggs with the melted chocolate and butter in a mixing bowl.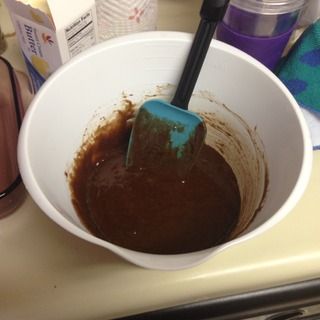 6. Mix ¾ cup of flour, ½ tsp. of baking powder, and ½ tsp. of salt together in a separate bowl.
Use a sifter for better consistency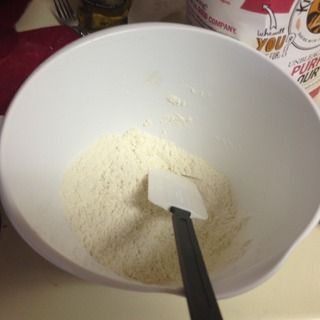 7. Add flour, baking powder, and salt mixture to the bowl with sugar, eggs, chocolate, and butter.
8. Stir until smooth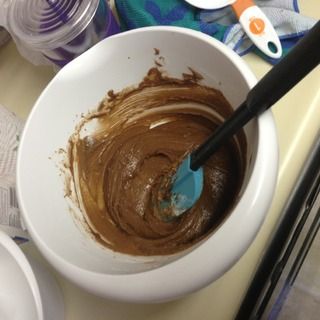 9. Pour mixture into 8 inch greased pan.

10.
Bake 30-35 minutes.
The layer is done baking when a brown crust appears. Below is an example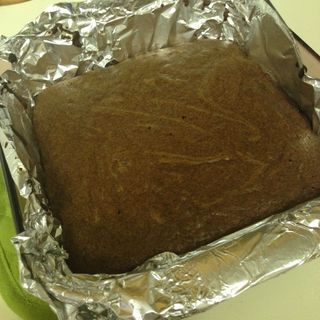 11. Cool for 30 minutes
12. Wait for layer 1 to cool before starting layer 2
Step 2: Layer 2
Total Time: 55 min, (Prep: 10 min, Cool: 45 min)
1. Brown ¼ cup of butter over medium heat in frying pan. (Heat the butter until it starts to get a brown color to it)
2. Blend in 2 tablespoons of cream and 1 tsp of vanilla.
3. Mix in 2 cups of powdered confectioners sugar
4. Spread evenly over layer 1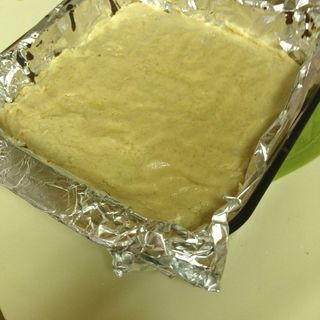 5. Leave cool for 45 minutes
6. Wait for layer 2 to cool before starting layer 3
Step 3: Layer 3
Total Time: 1 hr. (Prep: Time 10 min, Cool: 50 min.)
1. Melt 1 square of unsweetened chocolate and 1 tablespoon of butter in frying pan.
Alternatively unsweetened chocolate and butter can be melted in the microwave.
2. Spread a very thin layer over icing.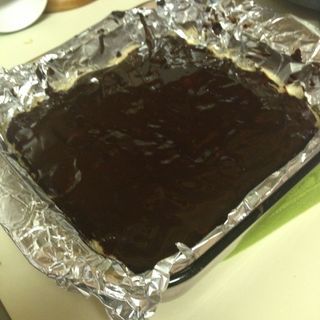 3. Let sit and cool to room temperature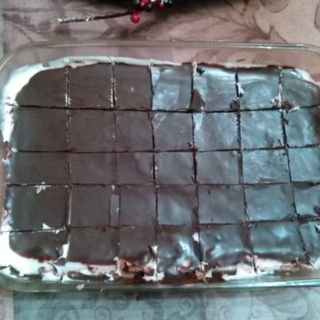 Now you have completed your bar cookies so eat and enjoy!